How To Teach Magic In
After School Enrichment Classes,
Workshops And Home Schooling
Programs.
Tell me and I forget. Teach me and I remember.
Involve me and I learn.
Attributed to Ben Franklin
"If your actions inspire others to dream more, learn more, do more and become more, you are a leader." – President John Quincy Adams -
Let's change this quote a bit. See if you don't agree:
"If your actions inspire others to dream more, learn more, do more and become more, you are a teacher."
Are you looking for information on teaching an After School Enrichment class?
Would you like to use magic as a fun way to teach to your homeschooler?
Yes? Then read on.
Learning how to teach After School Enrichment classes is simple to get started and for teachers the pay is great!
Here is the three step process to get started:
Step One - Call the local Elementary Schools in your area.
Step Two - Ask who the After School Enrichment Program Co-ordinator is.
Step Three - Call the person in charge and ask what type of programs they are offering and what they need teachers for.
That's it!
There are some hoops they will ask you to go through. In my area (Southern California) you have to have a background check done to be sure you are cleared to work with children and have a TB test.
Here is a full report on all the ins and outs of teaching these types of classes and what to expect.


Exciting Kids To
Learn!

"When I wake up in the morning
I
can't believe how great my job is.
I get paid to go have fun with my students.
Thank you so much for putting together these classes!"
If you are thinking about making some extra money teaching After School Enrichment classes it can be difficult to know where to start. Who is interested in this type of program? Who do I contact? What are they looking for? How much material do I need for an eight week course? What's the class size should I limit it to? How much can I make? These are the questions and road blocks to getting started in making money with ASE.
In this program I'll be giving you what you need to approach schools, offer them a great new After School Enrichment program for their students and then smoothly run those classes.
You might be afraid after realizing that an eight week course means you need eight hours of material to teach these kids. What are you going to do for that long?
Included here is all you need to run an eight week course of After School Enrichment magic classes. Lesson plans that are all laid out for you, packaged in a way that are cool for the kids and easy for you!
These are lessons that I have personally been using for over fifteen years teaching After School Enrichment classes in magic. Here my years of experience teaching these materials to elementary age students is being past on to you. I have searched through hundreds of books both in my library and the library of the famous Magic Castle in Hollywood, searching for fun and easy magic for kids! I then re-worked both the instructions and graphics for each one to make them as clear, interesting and fun as possible! Ready to go with instructions on how to use them, story lines to tell and what the educational value is about each one.
Complete lessons that teach math skills, logic skills, dexterity, history, optical and auditory illusions that fool our senses and brains. Each week starts off with something simple and then moves on to more challenging magic so all ages can participate. The eight weeks of material have been organized from the first to the last to be progressively more challenging, each week building skills.
Here are a few of the class lessons:
Circus Day
What makes a circus so fun? Have an interaction about circuses of today and yesterday. Then learn amazingly fun tricks that have to do with Clowns, a Swami, the Strong Man and how not to lose your money!
Houdini Day
The most famous magician of all time, how he started out and what he became famous for: Escapes! Escapes from handcuffs, ropes, boxes, straight jackets and so much more. Did you know he first called himself the King Of Cards? Then learn tricks recreating his magic, how he mysteriously went through a solid brick wall, escaped from a straight jacket hanging upside down over a busy street and answer the question "what was the one thing Houdini could not escape from?"
Illusion Day
What is an illusion? Here we have a fistful of cool illusions to fool your mind and senses. From growing fish, appearing & disappearing blocks, things that seem to spin on their own, giant bells inside spoons to vanishing rabbits. Now be able to answer the question, what is an illusion and how do they work?
Variety Arts Day
Mr. Fingers is a funny little puppet who shows off his tricks and ends up getting his treat. Always voted a favorite of my students! Mr. Fingers keeps kids laughing and laughing. They all want to make him show off and have fun with Mr. Fingers!
Graduation and Performance
The day to be tested and show what they have learned over the past eight weeks, eight weeks of fun and learning, learning without even realizing it and becoming Magicians First Class and receiving their graduation magic wands!
So how do I know kids love these lessons? They tell me! Their parents tell me! More than one parent when picking up their child has told me how their child had felt ill the day before but the morning of magic class they got up and insisted on going to school because it was magic class day!
When I was doing these classes week after week and month after month for After School Enrichment programs I had students signing up repeatedly for this class even though they knew they would be learning the same tricks! One students took the class four times. I made him my assistant to help teach the other students. One school had to instigate the rule of no repeating my class so other children had the opportunity to sign up!
Of course you could study your magic books or magic kits for ideas and teach the tricks in them. But I guarantee you will not find magic that has been especially designed for teaching an After School Enrichment program. Ideas and stories to teach and tell that have skills in logic, memory and dexterity in them. You can't find all these materials in one place or half of them at all. That is because they are materials that were researched by me over the past fifteen years, created and refined over those years by teaching at over a dozen elementary schools in my area. There is no collection like this anywhere else.
So how much is it worth to have another magician pass on to you his most valuable secrets? Secrets researched, performed and honed over fifteen years? Proven winners in the eyes of kids that are the harshest critics we magicians know? Here you will be getting all that and more; how to make money teaching these classes.
I have made this course as complete as possible! Written up are all the secrets you need know to go through all eight weeks of lessons. Also included are letters to send to schools introducing the program, class descriptions for them to use, what you will need yourself, how to prepare for the first day and what to expect in the classroom!
So why would another magician be giving up his secrets? Well, I can't be everywhere. I haven't mastered that trick yet. I can only teach at two or three different schools each week. So how can I teach more students and give them the benefit of this class material? I started by writing everything down, organized it and now sharing it with you. I'll be teaching you how to teach this material.
These classes usually take place on a Monday, Tuesday, Wednesday or Thursday. One day a week for eight weeks. You can schedule two or three schools and have a nice little income that you can count on for those eight weeks.
Find out more now and get started making money and having a great time doing it!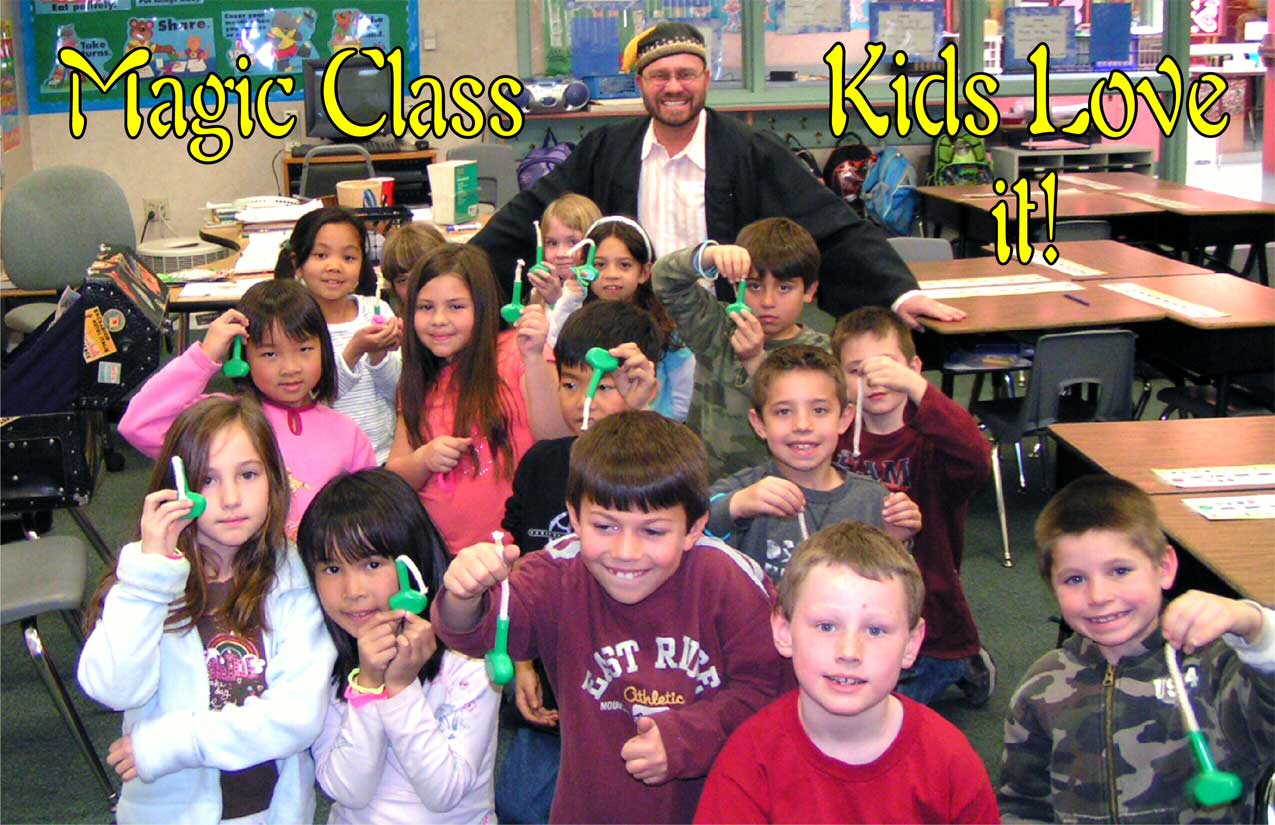 Teaching Magic Expert's Unique Magic Tricks Make It Easy and Exciting For Students To Learn Magic!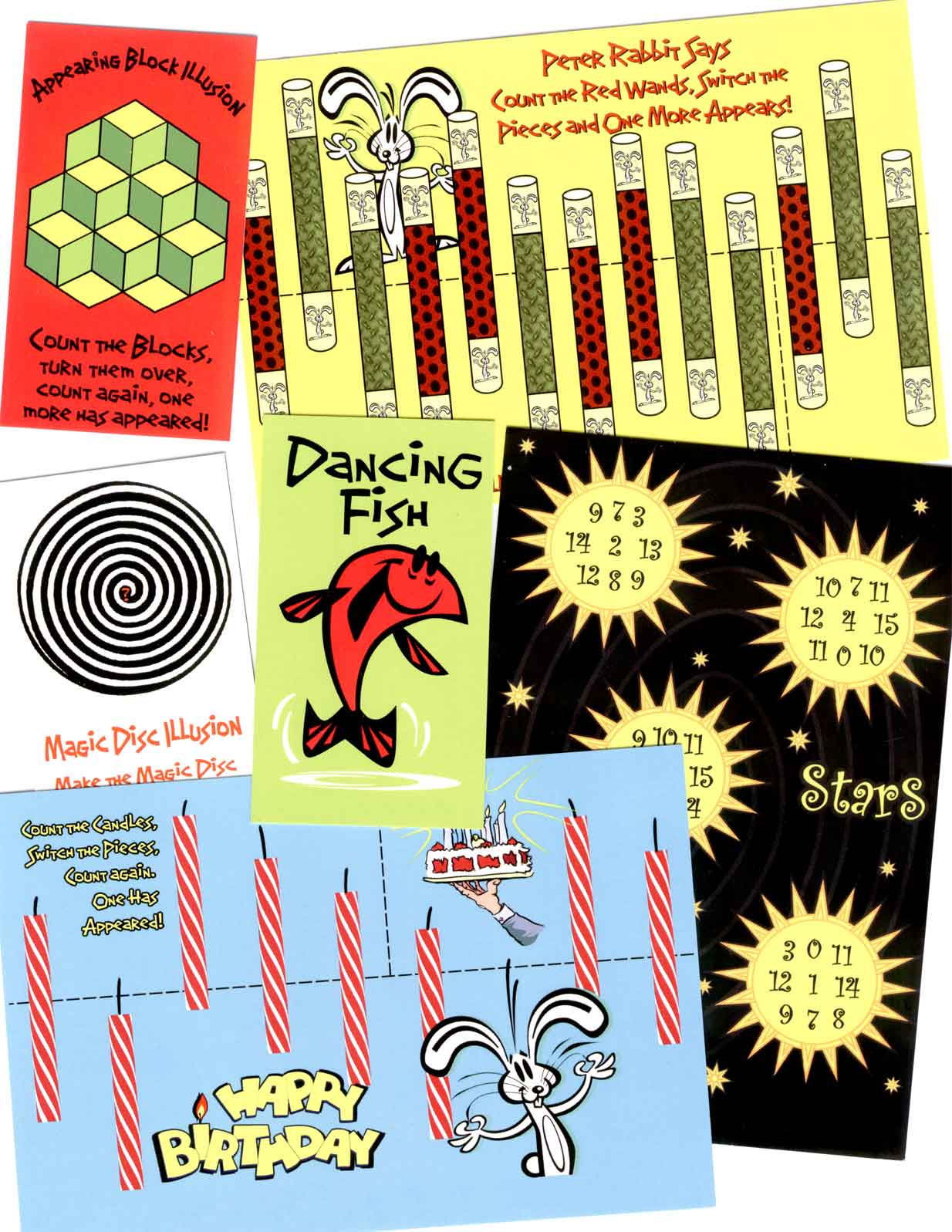 Here is What One Professor of Psychology Said of the Value of Teaching Magic to Children:

Reprint of Article on Richard Wiseman, professor of psychology
at Hertfordshire University in the newspaper:Telegraph.co.uk

Magic lessons 'should be

taught in schools'


Magic lessons should be put on the National Curriculum to boost children's confidence and self-esteem, ac- cording to a leading academic.

By Graeme Paton, Education Editor
Published: 5:03PM BST 11 Sep 2008

Pupils should be taught "mind reading" card tricks and how to rejoin the ends of a magic rope after it has been cut in two, it was claimed.

Richard Wiseman, professor of psychology at Hertfordshire University, introduced the lessons to two groups of 10 to 12-year-olds as part of a study.

He insisted the classes improved pupils' social skills and confidence levels and is now calling on them to be introduced in all schools.

Prof Wiseman, who is also a skilled illusionist and member of the Magic Circle, said they were more effective then standard classes in personal, social, health and economic education (PSHE), which are designed to help children deal responsibly with life issues such as drugs and sex.

Speaking at the British Association Festival of Science at Liverpool University, he said:
"Magic School was far more effective than the existing self esteem and confidence lesson. I think there are all sorts of reasons for this. Learning magic requires self-discipline, an understanding of how other people think, and an ability to entertain. Also, unlike playing computer games, it encourages children to interact with their friends and family."

Fifty pupils at two schools were given hour-long "Magic School" sessions as well as their normal PSHE classes. They were then given standard psychological tests.

Confidence and self esteem scores measured before and after the lessons showed that magic had a significantly greater benefit than PSHE, said Prof Wiseman.

See What One Teacher, With No Previous Magic Experience, Said About Teaching a Magic Class for The First Time!
MAGIC class...well ...it was fabulous! The kids loved it, as did I.
Our graduation day was a lot of fun...they did great....and when they didn't ...well...we laughed and talked it over, and they would try again. I would say it was a successful 6 weeks!
They also came up with their own "magician name"...which they loved doing.
Your website/videos were great to have of course...easy and precise enough to "get the trick"...thanks.
I am looking forward to teaching the class again !
Again...many thanks,
Susan C.
Lancaster, CA


She Did It And So Can YOU!
Kids and Teachers
Love
Magic Class!
"I had twenty five students sign up for my latest class! I just love teaching these classes, thank you!"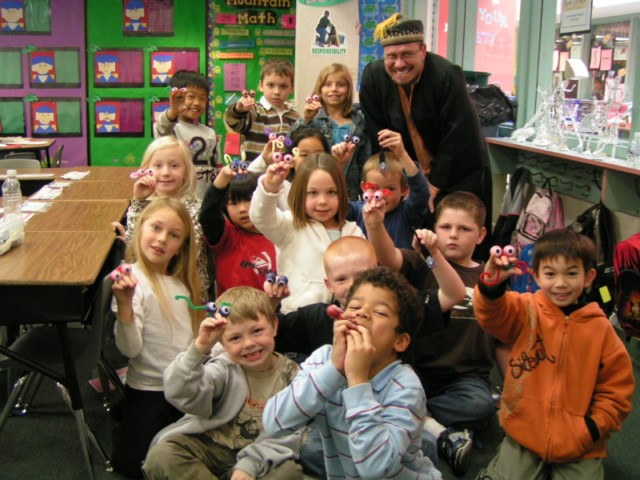 Thank you cards from students are pretty cool!
Dear Professor,
I really liked

magic class.
Thank you.
your friend,
Elizabeth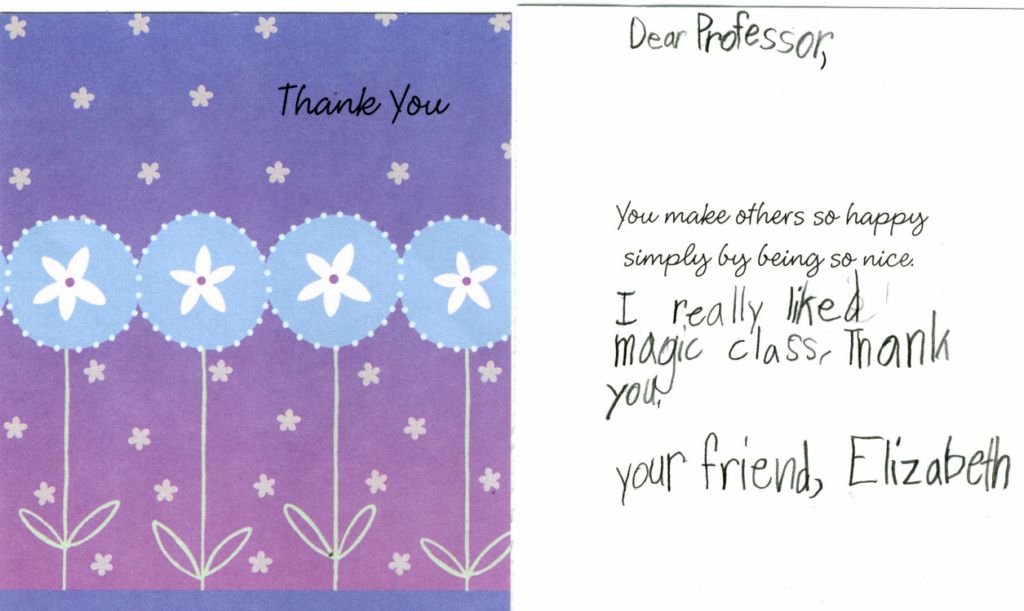 Contact Doug to see how easy it is to start teaching After School Enrichment Magic Classes!
Need a Magician for an event or party in Southern California?
How about having Doug come and do a magic show or a fun workshop?

Check out these local areas:
...